Biolite Firepit Plus Camp Firepit and Grill Review
Biolite Firepit Plus 2022 Review by The Good Ride
Turn Ons/Swipe Right: Very Versatile. Burns Bright and Effeciently.
Turn Offs/Swipe Left: Fire doesn't recharge the vent. Needs smaller logs to be smokeless.
Summary
The Biolite Firepit Plus needs small logs to work properly and doesn't recharge from the fire but it is very versatile, burns bright and efficiently.
Ethics Statement: We don't get paid by the manufacturer to write these reviews and this is our unfiltered opinion. We do make money from the "Where To Buy" links, but this is our best attempt at an honest and objective review from an average riders' perspective.
Biolite Firepit Plus Review- How it Burned For Us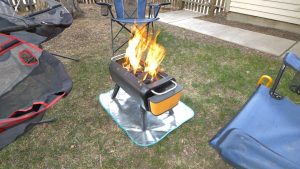 How This Review Happened:
Precious Good Ride dollars were spent to buy this and review it.
How It Was Tested
I used this for 7 months in my backyard. This was during late fall throughout the winter and into spring. Because of the weather I only used it about 15 times. I left it exposed to the elements without any cover or protection to see if it had rust issues like the previous model did. Spoiler alert…it did pretty well.
Approximate Weight
(We don't put in the exact weight because with wood cores there is no consistency in a boards weight)
Rechargable Battery
So coming from the Biolite Camp Stove to this I was pretty disappointed that the fire doesn't recharge the battery of the Airflow device in the Biolite Firepit Plus. You need to recharge it via a micro-usb port which is far from ideal. I really wish this 12,800 mAh battery had a high speed USB-C port instead and also charged from the fire like the stove did. I also would like to have a replaceable battery inside the Airflow device. Batteries fade over time and eventually don't hold their charge so this is pretty important.
Battery Life
The Biolite Firepit Plus isn't easy to do a battery run down test. There is an auto power off and auto power down feature so you can't run at high for a long period of time or at low indefinitely. I think it might sense the airflow and adjust accordingly. I can say that 3-4 hrs of use seem to knock it down about 25% at mostly low to medium speeds with a few high speed bursts here and there.  So I think I could get 3-4 days of camping without having to charge the Airflow device. After that it will just become a regular smoky fire.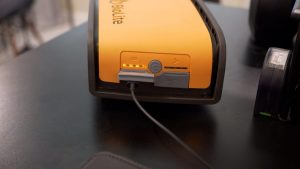 Versatility
What I love the most about the Biolite Firepit Plus is the ability to use it like a BBQ or use it as a firepit. It is small enough to throw in the car when I go camping but also great in my back yard. Sometimes when I'm not cooking a lot of food I use it in the back yard to BBQ. Then when the coles get low I lower it and throw a log on.
Smokeless Airflow & Speeds.
I wouldn't say the Biolite Firepit Plus is completely smokeless but it is massively better. You just have to make sure the logs are below the top vents to make this work. You have 4 speeds that really help the logs burn bright and effeciently. I could never get the logs to burn this way in a regular old firepit. The mesh sites really help it light up things way more than 1 log would in a pit.
Cooking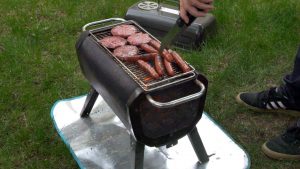 So this Biolite Firepit Plus cooks evenly and efficiently with BBQ coals. I love how well it cooks despite how small it is compared to a regular BBQ
Reliability
So I was worried about the rust issue with the previous model but after 7 months of neglect in my back yard it's holding up almost as well as my normal BBQ. There is only a little rust around some of the screws and on the bottom vent.
Portability
I like having the bag to keep it clean in the car and you can fold the legs down.
Assembly
Took about 20 min to assemble. Super easy.
Conclusion
So overall, I really have enjoyed the Biolite Firepit Plus. It isn't perfect but it is a great firepit to travel with. Especially with the fire restrictions. I can cook with it and keep my family warm with coals instead of wood if that is restricted.
Biolite Firepit Plus Images
Biolite Company Information
Biolite Firepit Plus User Reviews
If you can't buy through the links above, you can support the site with: