Big Agnes Salt Creek SL2 Tent Review
Big Agnes Salt Creek SL2 2022 - 2021 Review by The Good Ride
Turn Ons/Swipe Right: Excellent Versatility, 3 doors, Exceptional Air Flow
Turn Offs/Swipe Left: For most only a warm weather tent and not a 3 season.
Summary
The Big Agnes Salt Creek SL2 is far from ideal in cool weather but has exceptional air flow, good interior pockets, 3 doors and an awning. This is the tent I chose to use for when I'm camping solo at Lake Chelan to surf or at Mt Hood to snowboard when the summer starts to heat up in the PNW.
Ethics Statement: We don't get paid by the manufacturer to write these reviews and this is our unfiltered opinion. We do make money from the "Where To Buy" links, but this is our best attempt at an honest and objective review from an average riders' perspective.
Big Agnes Salt Creek SL2 Tent Review- How it camps and who it is for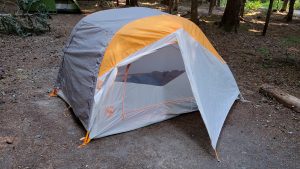 How This Review Happened:
Precious Good Ride dollars were spent to buy this and review it.
How It Was Tested
I took the Big Agnes Salt Creek SL2 out a handful of times during hot spells, which were many, last summer. I used it up in Chelan when I was surfing the City Wave and at Mt Hood when I was doing some summer snowboarding.
Assembly
I love the design of the Big Agnes Salt Creek SL2. It is exceptionally easy to set up. I love how all the main tent poles are connected and you don't have to run individual poles up through pockets in the tent. Instead you just have a bunch of clips that attach very easy to the poles. This saves soo much time. The rest of the set up is like most well designed color-coded tents.
Size
The Big Agnes Salt Creek SL2 is a pretty typical size for a 2 person tent. Davey, at 6'4" only had a few inches on each end of the tent. Nick at 5'8" and me at 5'10" were just fine in here. Like most 2 Person Tents, it is best for one person and a dog inside but it could fit 2 people tightly if needed. The good news is the dual vestibule helps keep gear sheltered and near by.
Wind
Every time I camped with the Big Agnes Salt Creek SL2 I never got a breeze above 15mph. Based on the construction, all the additional tie down options and the angle of the Rain Fly/Vestibules It seems like it can handle a decent amount of wind. That being said, it's hard to say for sure unless you really stress test it.
Using The Rainfly and Footprint
So I had no intentions of just using the rain fly but I set it up just for shits n gigs. It works pretty well. I might even take it with us when we go out to lakes n such this summer. Just throw a blanket over the footprint and you are good to go. With some of their 10" poles the Big Agnes Salt Creek SL2 should be ok in the sand.
Using The Awning
I have no real intentions of using the Awing because I'm usually car camping and have other areas to chill. However, it is a nice option to have if I want to lay down in my tent during the day and have extra shade. So it is a cool feature to have and there doesn't seem to be any sacrifices on the Big Agnes Salt Creek SL2 design wise to have this.
3 Doors
Having 3 doors seems excessive but once you have it, now you want it on every tent. It really makes the Big Agnes Salt Creek SL2 feel bigger if you are free of bugs where you are camping.
Conclusion
So for camping where I camp (with cooler nights) this isn't the perfect one tent solution. I would probably choose the Big Agnes Copper Spur HV2 Expedition Tent or the REI Arete ASL or a similar 3-4 season tent if I could only have one. That being said, this is soooo nice to have when it is hot. All the unique features are super nice to have but what does it for me is the ease of set up and just how exceptionally well this tent regulates heat. They even made the outer rain fly a light color to absorb less heat.
Big Agnes Salt Creek SL2 Images
Big Agnes Salt Creek SL2 User Reviews
Where To Buy
No obligation, but these links & ads support the site.
If you can't buy through the links above, you can support the site with: