Big Agnes Copper Spur HV2 Expedition Tent Review
Big Agnes Copper Spur HV2 Expedition 2022 - 2020 Review by The Good Ride
Turn Ons/Swipe Right: Warm, Strong Poles, Easy Set Up
Turn Offs/Swipe Left: Could use more ventilation for warmer days.
Summary
The Big Agnes Copper Spur HV2 Expedition Tent is not cheap but a great colder weather tent.
Ethics Statement: We don't get paid by the manufacturer to write these reviews and this is our unfiltered opinion. We do make money from the "Where To Buy" links, but this is our best attempt at an honest and objective review from an average riders' perspective.
Big Agnes Copper Spur HV2 Expedition Tent Review- How it camps and who it is for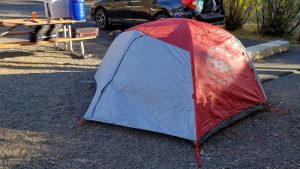 How This Review Happened:
Precious Good Ride dollars were spent to buy this and review it. I needed a cold tent ant this appealed to me.
Size: 2 Person
Days: 5
Conditions:  30-40f Highs with a decent wind chill bringing it down to the 20's-30's. Low's were 12-16 degrees. High's in the 70's and lows in the 50's
How It Was Tested
I tested it outside of Bend camping with my son and up at Mt Hood. I didn't take it on a split boarding mission or stress test it in really gnarly weather. If I wanted this for split missions I would have bought a smaller 1 Person Tent for that. This is primarily for camping early spring and late fall at Mt. Hood to snowboard and Lake Chelan to surf the City Wave.
Assembly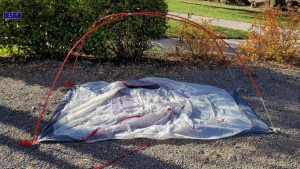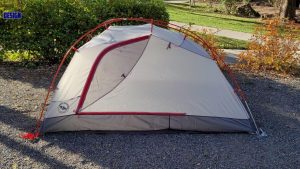 The Big Agnes Copper Spur HV2 Expedition Tent is incredibly easy to set up.  The pole clips and the connected pole system make it so fast and simple. Even if it is windy and you have to stake in all the guy lines you still can set it up faster than many tents out there.
Exterior Design
First off I love the colors of the Big Agnes Copper Spur HV2 Expedition Tent. I love seeing Red's and greys instead of the usual tent colors. The dual vestibule is great as well and it is great to have. Especially if you are doing some split boarding and need room to store gear outside.
Warmth

I didn't stress test the Big Agnes Copper Spur HV2 Expedition in super snowy cold weather but that is not really what this review is about. The night that I camped with my boy it did get down to about 12 degrees before the wind chill. Not sure what that was but it was pretty dry and cold. With a 15 degree Big Agnes UL 15 for me, a Big Agnes 15 Degree Duster for my boy and then a pretty thick blanket I brought from home over both of us we were pretty warm. If we didn't have that blanket we would have been pretty cold.
Ventilation
You can tell this is made more for the 4th of the 3-4 seasons and this is best as a cold weather/winter tent. There is not a lot of ventilation. I wish there was a little more so it had a little more versatility in warmer weather.
I didn't really get to stress test this in the wind but the Big Agnes Copper Spur HV2 Expedition didn't even feel like it was being tickled by 20-30 mph winds. With all the guy lines tied down I think this could handle some serious wind. You need the rain fly though to make this work well in wind. If you don't have it on the thicker poles will help keep it from collapsing but the steeper walls won't hold up as well.
Interior Design & Pockets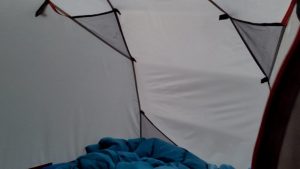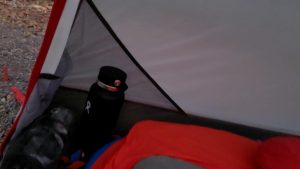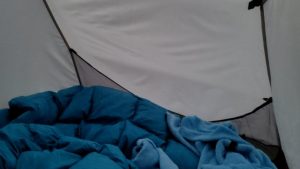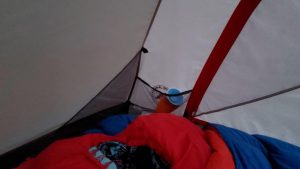 Speaking of steep walls, the Big Agnes Copper Spur HV2 Expedition is excellent when it comes to making a 2-person tent feel less claustrophobic. All 2 person tents are massively more comfortable as a 1 person tent for car camping like I do. There are a lot of pockets. Most are small except for the one on the ceiling. That is pretty spacious. But, there are a lot of pockets so it does a pretty good job. Not amazing but good for sure.
Conclusion
So overall, the Big Agnes Copper Spur HV2 Expedition is an expensive tent but it does really well in the cold and I would trust this in a good bit of wind too. I haven't been through as many tents as I have snowboards (getting close to 1,000) but I don't feel anything that I really need anything more for what I'm doing.
Big Agnes Copper Spur HV2 Expedition Images
Big Agnes Company Information
Big Agnes Copper Spur HV2 Expedition User Reviews
Where To Buy
No obligation, but these links & ads support the site.
If you can't buy through the links above, you can support the site with: