Big Agnes Big House 6 Tent Review
Big Agnes Big House 6 2020 Review by The Good Ride
Swipe Right: Great overall space for a family of 4. Easy Set Up and a good carrying case. Very useful built in Welcome Matt. Could be used as a sun shelter too.
Swipe Left: Not enough support for high winds. Zippers catch on tent material. Could use more ventilation in the doors. Vestibule and Footprint cost extra.
Summary
The Big Agnes Big House 6 isn't ideal for windy camping and I wish they had added some poles to reinforce the vertical sides. If you see a lot of good weather then there are a lot of cool features for a tent that's a little cheaper than the average high end 6 person tent. It's been a comfortable tent for our family camping adventures. Unlike our snowboard reviews, I haven't reviewed close 1,000 tents so this just my take based on our family outings.
Ethics Statement: We don't get paid by the manufacturer to write these reviews.  We do make money from the "Where To Buy" links, but this is our best attempt at an honest and objective review from an average riders' perspective.
Big Agnes Big House 6 In Depth Review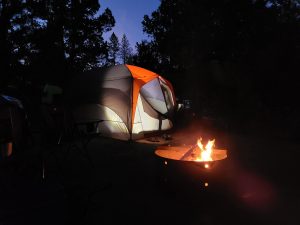 Days: Two mid-summer weekend trips in great weather.
How This Review Happened: We spent our precious earnings to review this.
Construction
The Big Agnes Big House 6 could use some more poles to help it survive heavy winds. If you look at similar tents like the REI Kingdom 6 and Nemo Wagon Top 6, they all have more reinforcement poles on the side. The rest of the tent is well thought out and it's easy to set up. I like the color coded set up so I don't set it up wrong…well for the most part…That little welcome matt is better than it looks. It is great to keep all your shoes on that matt and have a little area off the dirt before you step into your tent.
Ventilation
The mesh top really helps make for pretty good ventilation but when the shelter is on it warms things up. That's great at night but not ideal if you get the opportunity to have a break from the kids and a rare but glorious nap. With the Kingdom 8 that has the same venting as the Kingdom 6 I could open up the mesh in both doors and have a bearable temp to get a parent version of a disco nap. With the Big Agnes Big House 6 that didn't work so well in anything above 70 degree weather for me. The mesh venting is only about half the size. There was zero condensation in the storm fly both weekends we camped. It was dry where we camped but not a drop…
Interior Space
The 120" x 100" interior floor space makes for a great way to get pretty decadent with a 4 person family. With 6 people it's tight but manageable but cramped like all tents when you get close to their stated capacity.
Warmth
Once you get the family in there all the bodies heat it up and it get's warm but we haven't tested it below 40F. It was our mellow weather camper. If it's cold and not windy then the Big Agnes Big House 6 would be pretty warm. I could see this working pretty well if the temps dropped by 10-15 F. On the other hand, my wife might say something else. She wears a serious puffy at the beach in summer.
Portablity
There is a great storage pack with the Big Agnes Big House 6 Tent. It's a pretty bad back pack but a great way to store a tent and it works great for a short walk to your tent space. What I really like about it is the modular aspect for packing up. Getting a family of 4 into a Subaru with a sky box for the weekend is tight so the more modular everything is the better. It makes packing Tetris way more fun and waaaay less challenging than cylindrical bags.
So the wind resistance might be a deal breaker but if you don't see a lot of wind then the Big Agnes Big House 6 has a lot of cool features.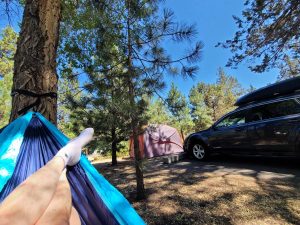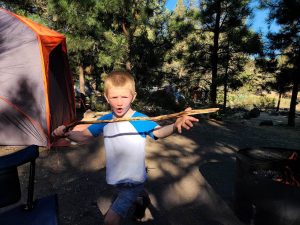 Big Agnes Big House 6 Images

We try to get as many images of the Big Agnes Big House 6, but forgive us if they're not all there.
2021
Big Agnes Company Information
Big Agnes Big House 6 User Reviews
If you can't buy through the links above, you can support the site with: