Adidas ZX 500 Snowboard Boot Review and Buying Advice
Adidas ZX 500 2016 - 2015 Review by The Good Ride
The Adidas ZX 500 Snowboard Boot is a very light and affordable speed lace boot with a good fit and feel.  The only thing in question is it's flex retention and longevity.
This is the review of the 2015 ZX500 but it looks like the 16 ZX 500 fixed some of the longevity issues I encountered. So the 16 might work.
The first impression was these boots are really light. I weighed them and they came in at 1.8 lbs which is really light for it's price range. Most boots I've weighed are more like 2 lbs to 2.5 lbs.
Days: 1
Riders: James
Bindings:  Burton Cartel
Boards:  Jones Mountain Twin
Size: 9
Approximate Weight: 1.8lbs per boot and 3.6lbs for the pair.
Fit: This has that old familiar fit that most Burton boots have for my feet which is outstanding.  It fit's very true to size and my size 9 feet fit perfect in a size 9 boot. My toes barely touch and then pull back just a little bit when I lean forward which is perfect. It;s built really well around the ankle and back foot with just enough width n the front so it doesn't press your toes together. That same width allows the front part of your foot to expand wide with a forward lean which I feel gives me more balance/confidence.
Flex:  Nice medium flex
Flex Retention: With a forward flex the Adidas ZX 500 boot creates some folds a bit around the ankle and makes this interesting indention where the speed lace ends.  It sinks down on the roof of your foot (no discomfort though) and the toe box rises up. Here is a pic of what it looks like.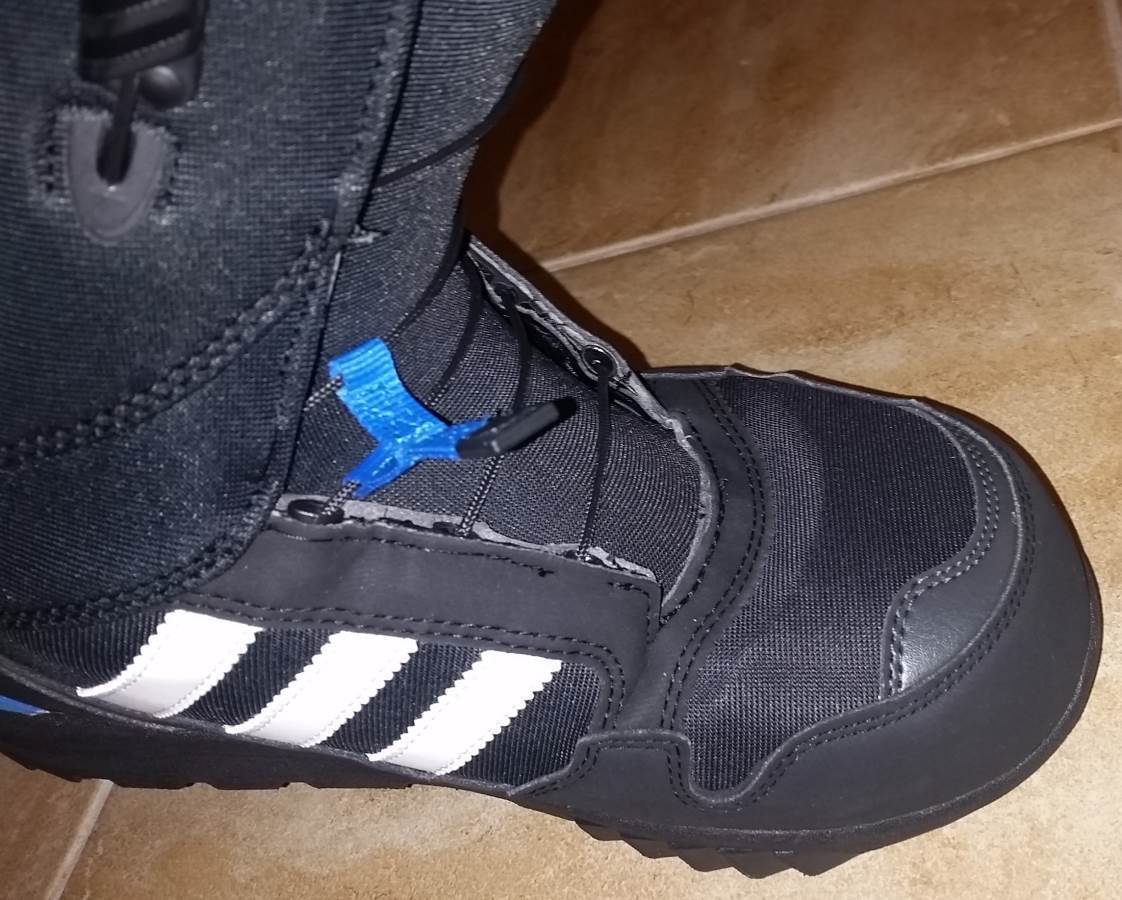 The part of the toe box that the toe strap goes over is relatively firm and hard to move but I'm concerned it might break down like the rest of the boot over time.  I'd love to see some extra flex retention tech built in like an Articulating Cuff or a bigger notch in the ankle as well as maybe a little something in the liner as well. I'd be happy to sacrafice some weight for extra durability/longevity.
Turn Initiation: Nice mid level forgiving turn initiation that can power most moderate turning boards edge to edge.
Comfort: Incredibly comfortable at first wear. This boot fits well around your foot and fits my feet just like a Burton boot.
Heel Hold: Great heel hold and when I wore it next to the Burton Ion it held my heel in better than it's much more expensive competitor.
Adjustability: This speed lace is just like Burton's speed lace and is great for separate upper and lower adjustability.
Shock Absorption: Pretty good shock absorption but it's not over the top.  It has a really good feel under foot that integrates well with bindings and boards.
Traction: There is a very disappointing single mold EVA foam sole that wears down quickly and doesn't have good traction in ice.
Footprint: What is interesting is the ZX 500 has a more reduced footprint than the Blauvelt which is much more expensive.  It's right there with the Burton Ion in size and maybe even a few millimeters smaller.  It's a little wider but not by much.  Well done!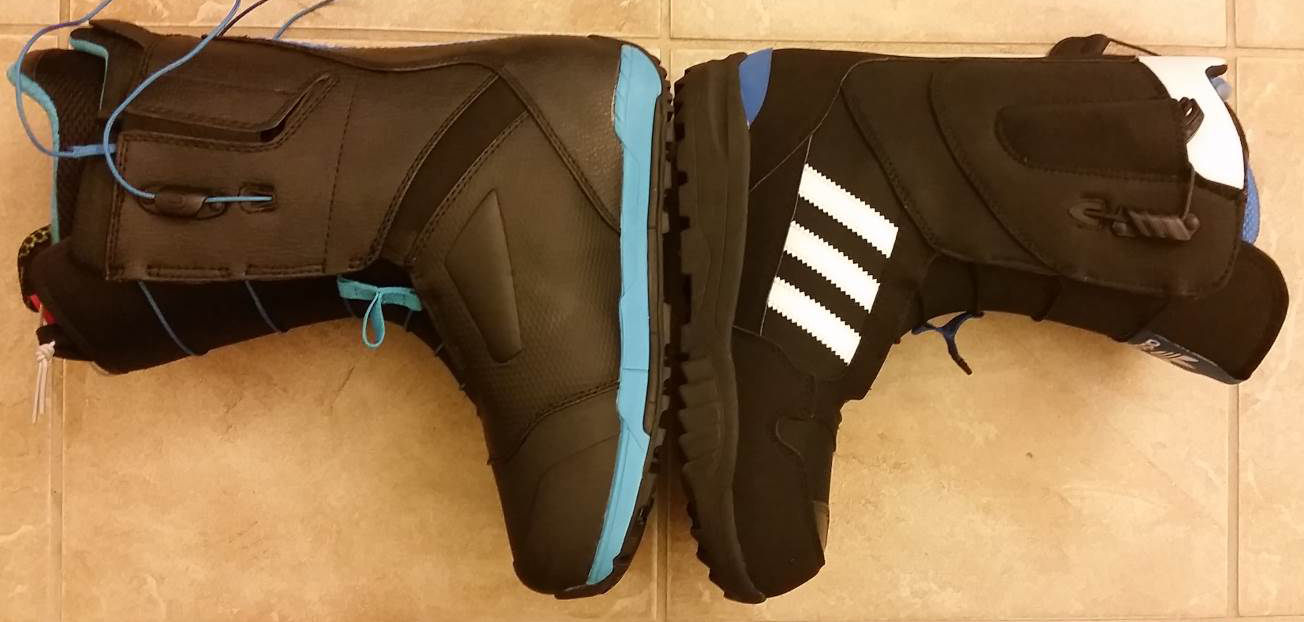 On & Off Ease: Very easy on and off and a little faster than most speed laces out there because it doesn't have any velcro on the liner.
So all in all the Adidas ZX 500 boot offers up comfort, a very light feel and a very reduced footprint which is huge.  The only drawback is the longevity of flex and the lack of traction with the single mold eva sole.  If you can live with those issues this is a really good boot.
Read the whole review
User Reviews of the Adidas ZX 500
Riding Level
Beginner - Advanced
Medium
Medium
Reduced Footprint
Excellent