Adidas Blauvelt Snowboard Boot Review and Buying Advice
Adidas Blauvelt 2015 Review by The Good Ride
The Adidas Blauvelt Snowboard Boot has been pretty much shrouded in mystery.  No one has had access to them as Adidas hasn't really been into interacting with any media. These boots are from one of the Burton Boot designers and I've been dying to try them.  I've also had a ton of requests to review them so I sucked it up and bought them.
Days: 1
Size: 9
Riders: James
Bindings:  Burton Cartel
Boards:  Jones Mountain Twin
My Initial impression about these boots is they feel light.  Most boots might vary slightly in weight but it never really prompts me to say hey these boots are really light like these did.  I decided to weigh them and one boot came in at 2 lbs even.  The Burton Ion came in at 2.6 lbs so there is a little difference.
Flex:  Feels pretty stiff but it doesn't seem like it's going to last. Feels like it's going to start stiff and after about 20 days get pretty soft.
Flex Retention:  So the first observation when pulling them out of the box is the boot is really light.  It's feels lighter than every Burton boot I own and seems like it would be lighter than the Ambush. It's great to walk around in and it feels better attached to a board. Conversely it also feels like it's flex is not going to hold up compared to most boots out there.  You can see the boot wrinkle and break down around the ankle as well as in other places as you flex it for the first time when trying it on.  There isn't anything in the liner going on or in the shell to retain the flex.  The toes are pretty strong but I feel like they could break down as well over time.  As you can see from this image the way the boot wrinkles where the speed lace ends and folds at the ankle when flexed forward.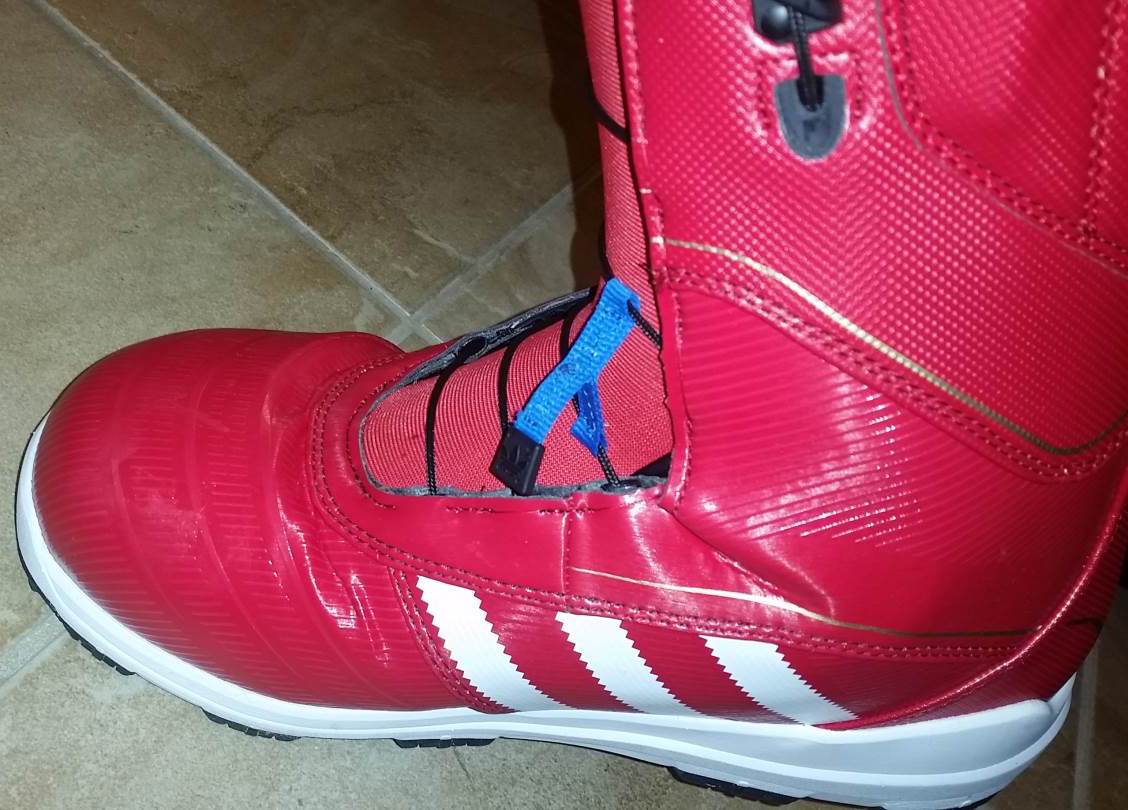 Turn Initiation:  Nice quick edge to edge transitioning and it makes a board turn well.  However as the flex leaves the boot I don't think the response will decrease as well. There is always a price to pay for going really light.
Comfort:   These boots are really comfortable and fit just like Burton boots fit my feet.  Almost instantly I felt like my foot was at home.  The liner is super comfortable for how thin it is and the boot feels like its been built around my foot.
Heel Hold:  Trying on the Burton Ion on my left foot and the Blauvelt on my right you could feel that the Blauvelt held the heel a little better and it's got a nice grip around the heel/ankle.
Adjustability:  Same great adjustability as Burton Speed lace.  I like the handles and the way they fit into the sides of the boot.  The separation between upper and lower is great without sacrificing heel hold.
Shock Absorption:  The sole is almost all EVA foam and there is a lot of it.  The good thing is they added some Continental tire tread below it but not that much to interfere with the feel under foot like some boots can do.
Traction:  The tire tread I mentioned in Shock Absorption is enough to help you walk but what makes it help the EVA foam do so well with shock absorption also doesn't make it exceptional for all conditions. So it's not exceptional but it's not bad at all either.  It's fine walking through an icy parking lot or hiking in soft snow.
Footprint:  So as usual I compare the footprint to Burton Boots (Burton Ion) which all have an excellent reduced footprint. As you can see the Blauvelt seems like it's 1/3 to 1/2 size larger but still has some reduction going on. It's also pretty wide compared to the other boots.  What was kind of surprising is when I compared the Blauvelt and the ZX 500 to the Burton Ion the ZX 500 was smaller in footprint and closer to the footprint of the Ion. I would of thought that this would of been the opposite.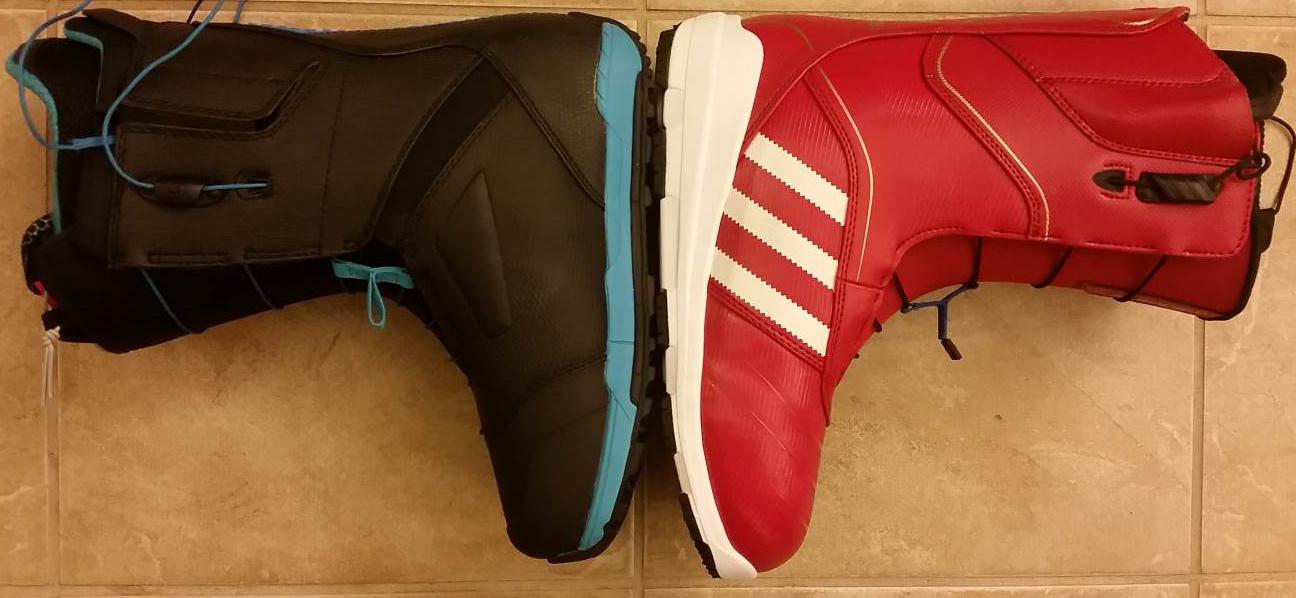 On & Off Ease: The Adidas Blauvelt has an easy on and off way about it that's a little faster than Burton boots because the liner has only one Velcro attachment instead of 2.   It seems like it will hold but there doesn't seem like a lot of Velcro
So all in all this is a really good fitting incredibly light boot but the only thing that worries me is the longevity based on how the boot held up for one day.  I think the Blauvelt is just a little flex retention tech away from becoming an amazing boot. I'd be fine with everything else and probably want to ride these all the time if they held up better.
Read the whole review
User Reviews of the Adidas Blauvelt
Board Type
Semi-Challenging - Easy Turning
Riding Level
Intermediate - Expert
Med/Stiff
Med/Fast
Shock Absorption
Excellent