Adidas Energy Boost 2017 Snowboard Boot Review
Adidas Energy Boost 2017 Review by The Good Ride
The Adidas Energy Boost is a very high end Adidas boot but also a pretty good one.  The 2017 model is and it's improved dramatically from the past years.  The real highlight of this boot is the shock absorption from the "Energy Boost" tech and it's insanely reduced footprint.  It's changed the way we look at shock absorption and footprints.
Riders: James, Jimbo and Jack
James' Specs Relevant to Boots
Shoe Size: 9 with most boots/active shoes and 10 casual.
Calves (Widest Point): 17"
Calves (At top of boot): 12"
Foot Width at Widest Point: 4"
Mid Foot Width: 4"
Heel Width: 2.5"
Foot Height (Highest Point): 3"
Widest Point Arond My Ankles 11.5"
Flex: There is a responsive medium/medium stiff flex.
Flex Retention:  The flex will probably settle in at medium after they break in and probably for most of the boots life but can't say for sure. It's nice to see a little bit of articulation at the ankle that helps it not break down as quick at the flexing point.  I wish the Blauvelt had this minor articulation.
Fit/Comfort: So the Adidas Energy Boost seemed to be fine for Jimbo at the demo's but I noticed a decent amount pressure on the top of the foot near where the tongue starts when flexing forward. The rest of the boot is comfortable.  It doesn't have the feel of the Life Ride Liners that Burton makes for 2017 but it's a worth while compromise for having such a reduced footprint compared to Burton.  So this pressure point could disappear after it breaks in or become worse.  I'm thinking that it will probably disappear as it breaks in but we'll have to see. The rest of the boot has that same feel as Burton does where there is width enough to allow your toes to flex and the sides of your feet don't feel cramped in.
Heel Hold:  The heel hold is really good around my ankle and much better than the Tactical ADV. The liner seems to envelope my ankle and heel without making it feel choked off or create pressure points. It's rather difficult to lift the ankle up at all.  I have a thicker ankle due to sprains over the years but I think most will feel the same as I do. If I have a choice of heel lift or circulation I always choose circulation but if I can get both like I can with the Energy boost then I'm all for it.
Adjustability: The speed lace isn't quite as evolved as Burton's but it works and it's great to have complete separation from upper and lower lacing. I like the lower a little looser and the upper a little tighter and this accommodates that.  You can't do that with most BOA boots.
Turn Initiation: Jimbo felt it was very quick edge to edge and its response is pretty appropriate to the flex.
Traction: I'm glad they put rubber on the bottom that seems like it would be hard but it's soft and really grips.
Shock Absorption: I haven't experienced anything like this underfoot and I have to now change the whole rating system.  This is the best shock absorption I think we all experienced in our history of trying on boots.
Footprint: Adidas really shrunk this down.  As you can see it's got a significantly smaller footprint than Burton and before this they use to be the best. In the past most boots looked like the Burton Almighty boot in the pic and Burton looked like the Adidas so that says a lot about how small this boot is.  It's a great boot to help reduce toe/heel drag.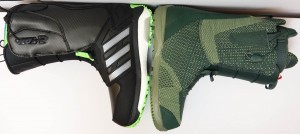 On & Off Ease: The speed lace is pretty close to the speed lace from Burton and it seems like it's almost as evolved.  Very easy on and off.
Read the whole review
User Reviews of the Adidas Energy Boost
Riding Level
Intermediate - Expert
Medium/Stiff
Medium/Fast
Reduced Footprint
Excellent
Shock Absorption
Excellent