Coalition Sojourner 2022 – 2023 Snowboard Review
| | |
| --- | --- |
| Riding Style | Powder |
| Riding Level | Advanced - Expert |
| Fits Boot size (US) | Women's, 8-10, 10-12, > 12 |
| Manufactured in | |
| Shape | Tapered Directional |
| Camber Profile | Continuous Rocker |
| Stance | |
| Approx. Weight | Feels Heavy |
| Split | Comes in split |
| | |
| --- | --- |
| On Snow Feel | |
| Turn Initiation | |
| Skidded Turns | |

Where To Buy
No obligation, but these links & ads support the site.
Coalition Sojourner 2023 - 2022 Review by The Good Ride
The Coalition Sojourner is a hard charging powder board with a lot of directional float, taper, and a rocker profile. The Sojourner also comes with a stiffer flex and a wider waist width. It would be great for a rider with a larger boot size, or looking for a stable powder board with lots of float. The Coalition Sojourner also comes in a splitbard option.
Ethics Statement: We don't get paid by the manufacturer to write these reviews.  No one is perfect and we do make money from the "Where To Buy" links below, but this is our best attempt at an honest and objective review from an average rider's perspective. 

How This Review Happened:  We borrowed this for an extended demo and then returned it.
Coalition Sojourner Fast Forward Markers Timecodes 00:00 – Intro 00:38 – Base 00:48 – Camber Profile 01:06 – Taper 01:11 – Snow Conditions 01:30 – Flex 01:40 – Sizes 01:57 – Waist Width 02:32 – Powder 03:03 – Furthest Set Back On Board 03:33 – Steeps 04:11 – Off Piste / Trees / Bumps 04:23 – Groomers 04:42 – Edge Hold 05:05 – Switch 05:24 – Energy And Pop 06:00.- Topsheet 06:45 – Weight 07:08 – Who Is This For?
Size: 148

Sizes Availible: 143, 148, 154
Days: 4+

Snow Conditions: Mostly spring riding conditions. I did get a little snow here and there but overall it was icy in the mornings and slushy in the afternoons.
Riders: Steph
Boots: Vans Ferra Pro
Bindings: Union Legacy
Set Up: 21″ Centered 15 front -15 back
Waist Width
143 – 245mm / 148 – 257mm / 154 – 257mm
The Sojourner comes with a wider waist width than your average women's snowboard. There are not very many mid-wide to wide snowboards availible for women. This would be great for riders that have a larger boot size and are looking for a stable board for freeride and powder situations.

Base
It has a 7500 Sintered base to keep it sliding fast and smooth. As long as you keep it waxed up, it should stay nice and fast.

Camber Profile
This board comes with a gentle rocker profile. The rocker increases towards the nose and tail and is more mellow inbetween the feet. This helps with float in powder and manuverablitiy on snow. It is pretty stable for having a full rocker profile. It tracks fairly straight when riding with a flat base, or getting off the chairlift with one foot. It still has that somewhat catch-free feel to it, but the wider waist width, and the mellower rocker between the feet seem to help.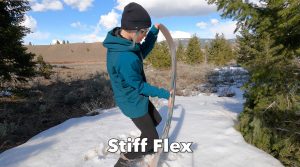 Flex
The Sojourner has a rather stiff flex. This helps keep it stable in rough terrain and at higher speeds.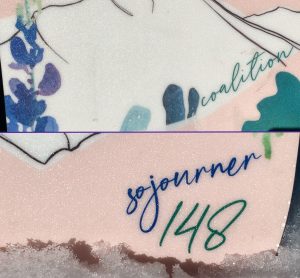 Topsheet 
I really like the topsheet of the Sojourner. It has a somewhat textured feel to it. This helps with traction when getting on or off the chairlift, and also helps prevent surface scratches from use. The only downside might be since this is a powder board, snow tends to stick to textrured top sheets and can weigh down the board a bit. Sometime spraying a little spray on wax on the top can help to prevent this from happening.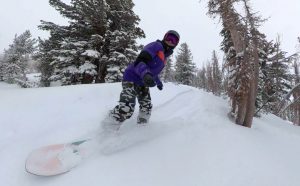 Powder
I got lucky and was able to test out the Coalition Sojourner in a couple different powder days. It wasn't super deep snow. But it was enough to feel how the board might react on a deeper day. I was riding one size larger than I needed to for the demo. For my specs, I think the 143 would have plenty of float for me. The wider waist width adds a lot of surface area on the snow, so if you have a size 8 and under boot, you could definilty size down for this board if you wanted to. Or if you want even more float, you could ride it in your normal size.
The Sojourner is pretty directional and the 148 that I tried has 13mm of taper as well. This, mixed with the directional nose, swallow tail, and the rocker profile allows the board to float really well through deeper snow. This was my favorite snow condition to ride this board in.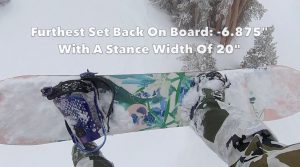 Furthest Set Back On Board
In the 148 size, the Sojourner can be set back up to -6.85″. With a stance width of 20″.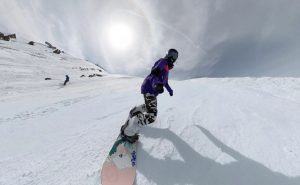 Steeps
It handled well on steep terrain. At slower speeds, I felt the wider waist width and it took more effort to make an edge change. But if I had the 143 instead of the 148 I think it would turn faster for my size 7.5 boot. The stability of this board was great up in the steeps, and it gives you the option to really rip down the run at a faster speed without worrying about stability.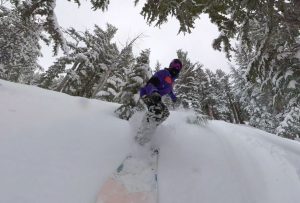 Off Piste / Trees / Bumps 
In softer snow, the Sojourner handled off piste terrain great. It takes more effort to turn if the snow is a hardpack condition but it can still ride through bumps and trees with a little effort behind the turns. On harder snow days, this board prefers the groomers. But on powder days, or semi soft snow days it is fun in the trees and off piste. It still seems like it prefers a faster speed even off piste, so maybe good for the intermediate and above off piste rider.
Groomers
It is pretty fun on groomers, but it definilty is meant for powder. The rocker profile isn't too interesting to carve with, so it prefers skidded turns in these situations. For me, it was more about riding on the groomers to get to the next powder stash and not really about getting some dynamic turns in along the way. But for a rocker profile board it handles pretty well and doesn't really have that super spinny loose feel on groomers. It is more connected to the snow than other full rocker snowboards I've ridden.
Edge Hold
The Sojourner does best in softer to medium soft snow conditions. It has an ok edge hold in icy snow, but it preforms better in good snow conditions. There is no disruption in the sidecut, but the mellower rocker between the feet does help a bit. It has enough edge hold to get you from powder stash to powder stash, but isn't an ice specialist.
Switch
This board has the ability to ride switch if needed. It feels a little backwards, but the swallow taill is pretty mellow and the rocker profile keeps the tail feeling catch free. So if you need to, you pivot the board around in tight situations, or ride switch out of a wrong turn if needed.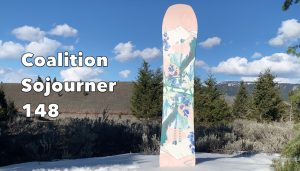 Overall
The Coalition Sojourner is a powder loving snowboard that has a ton of stability and a lot of float. It might be good for a heavier rider with a larger boot size. It has a ton of stability and a wide waist width. You could either ride it in your normal board length for optimal float, or even size down a bit and get more manuverablity without sacificing too much surface area on the snow. It also comes in a splitboard option!
Coalition Sojourner Specs
Coalition Sojourner Images
Coalition Company Information
Coalition Sojourner User Reviews
If you can't buy through the links above, you can support the site with: