Arbor Satori Camber 2024 Snowboard Review From A Women's Perspective
| | |
| --- | --- |
| Riding Style | Alternative Freeride |
| Riding Level | Advanced - Expert |
| Fits Boot size (US) | Women's, 10-12, > 12 |
| Manufactured in | Dubai by SWS |
| Shape | Tapered Directional |
| Camber Profile | Mostly Camber |
| Stance | Centered |
| Approx. Weight | Feels Normal |
| Split | Comes in split |
| | |
| --- | --- |
| On Snow Feel | |
| Turn Initiation | |
| Skidded Turns | |
Where To Buy
80% of outdoor sports products are not listed or sold online.
Our team has relationships with hundreds of local snowboarding and outdoor sports shops.
We'll call the shops and email you a list of stores along with pricing and availability.
---
Not sure what to buy?
Get custom advice from Good Ride editors James and Steph.

Get Advice
Arbor Satori Camber 2024 - 2023 Review by The Good Ride
This is a look at the Arbor Satori Camber snowboard. This is a women's take on this board (it is technically a men's board). But we tested it in a 148, which is small enough for some women ride. The Satori has a free-ride type personality without being too aggressive or serious about it. It has a wider waist width, a medium flex, a positive camber profile, and Arbor's uprise fenders.
Ethics Statement: This is our unfiltered opinion without any manufacturer oversite. We do make money from the "Where To Buy" links, but this is our best attempt at an honest and objective review from an average rider's perspective.
Time Codes
Time Codes 00:00 – Intro 00:19 – Sizing 00:59 – Weight Range 01:19 – Waist Width 01:49 – Base 02:14 – Camber Profile 03:16 – Flex 04:00 – Directional Shape 04:29 – Snow Conditions 04:50 – On Snow Feel 05:19 – Edge Hold 05:55 – Steeps 06:38 – Off Piste 07:24 – Powder 07:54 – Uprise Fenders 08:28 – Furthest Setback On Board 08:49 – Turning Experience 10:15 – Freestyle Personality 11:08 – Overall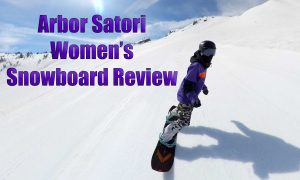 How This Review Happened: We borrowed this for an extended demo.
Size: 148
Days: 5+
Conditions: Some mid season snow with a little powder, some hardback, and early spring conditions.
Riders: Steph (5'4", 109 lbs, Shoe size 7.5)
Boots: Vans Luna (Women's 7.5)
Bindings: Union Trilogy, Arbor Sequoia 
Set-Up: 20.5" Wide. 15 front -15 back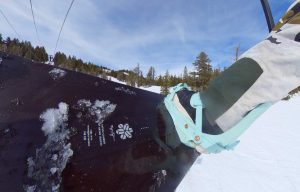 Sizing
148, 151, 154, 157
I tried the 148. The minimum weight range is 112lbs on the 148. And it also has a wide waist width at 262mm.
My weight comes in just under the suggested range at 109 lbs. Even with that, and the wide waist width, I still had fun on the Satori. And I do think a slightly smaller size would fit my specs a bit better, the 148 was still fun for me to ride and maneuver around the mountain. It was still friendly enough for me to turn with minimal effort, which surprised me a bit. It could almost qualify as a volume shifted board for my specs because of how wide the board is. But could accommodate larger riders as well as riders with a bigger boot size.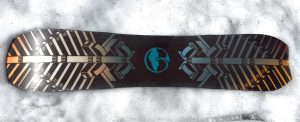 Base
The Arbor Satori Camber comes with a sintered base. Great for a faster, smoother glide on snow when compared to lower quality bases like Extruded.

Camber Profile
The Satori comes with Arbor's Parabolic Camber. This is a full positive camber profile that becomes more mellow towards the nose and tail of the board.
This camber profile offers good stability, nice pop and energy. The positive camber is mixed with Arbor's uprise fenders. These are sections along the edge near the tip and the tail that are turned upwards. This helps the board to feel a bit more forgiving in turns, creates smoother edge transitions, and helps with floating in powder as well.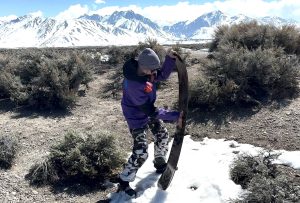 Flex
It comes with a 5/10 flex. This is a 5/10 men's flex, so it felt more like a 6.5 to me, since I'm used to riding women's boards and they tend to be a bit softer.
The flex keeps the Satori smooth at higher speeds and through bumpy snow, but it also is soft enough to help if feel more nimble and playful when riding.
Edge Hold
The Satori has pretty decent edge hold on harder snow and icy conditions. It still felt a bit loose from time to time when riding in icy terrain. The positive camber profile helps a lot with edge hold. It also comes with Arbor's Grip Tech. This includes two bumps along each edge of the board. One under the front foot and one under the back foot.
Even though it is a full positive camber board, the Uprise Fenders take a bit of the edge hold away. So I think the Grip Tech helps equal it back out again bu having a few extra contact points on the sidecut.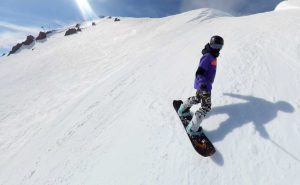 Steeps
This board rides well in steep terrain. It is stable at higher speeds, and has a decent amount of edge hold for steeper terrain and variable conditions. The positive camber keeps it feeling smooth and connected to the snow. The uprise fenders and medium flex makes it possible to turn the Satori quickly. It likes smaller radius turns rather than straight lining down. I did feel the wider waist width at the turn initiation. But even with my 7.5 women's boot size, I could turn it with a medium amount of effort.
Off Piste
The Satori is fun off piste. I preferred it in softer snow and powder when riding off piste as opposed to hard pack. Mostly because it was a bit slower to turn for me in harder snow. But if you are a bigger rider than me, or have a bigger boot size, it will turn a lot quicker. I soft snow it was pretty quick to turn, and the looser feel to the Satori allows for quick turning through tight trees and bumpy snow.
Turning Experience
The Arbor Satori was pretty fun on groomers. It is a very stable board at higher speeds, and likes a small to medium turn radius. It can make skidded turns and carve turns alike. The uprise fenders keep it feeling loose and fun for skidded turns. The positive camber helps make carving a lot of fun. I had to ride the Satori a bit faster to get it to bend for me in carves. But it had good spring in and out of the turns when I didn't get it to bend. The added Grip Tech helps keep the edge engaged while carving too. However, I did have to lean a bit more than normal when tipping the Satori over in carves. But once I learned where that tipping point was, it was very fun to carve.
When riding the Satori on a flat base, it feels a bit looser on the snow then I expected. So it is a bit loose feeling when getting on and off the chairlift or skating.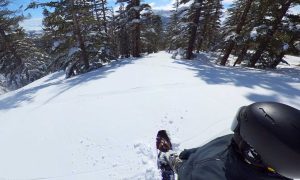 Powder
I enjoyed this board in powder. It has a good amount of surface area because of the wider waist width. It has a directional shape and is a bit tapered (6mm) as well. The exaggerated uprise fenders help quite a bit with float as well. So even though the Satori is a positive camber snowboard, it still floats really well in deeper snow. The positive camber profile helps the Satori feel dynamic even in powder. There is no setback on sidecut with the Satori, but there is a bit of directional float when the bindings are set up on reference stance.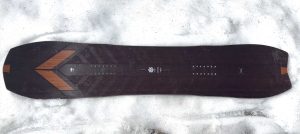 However, if you move the bindings all the way back on the 148, you will get 2.125″ of setback on board with a 21.5″ stance width.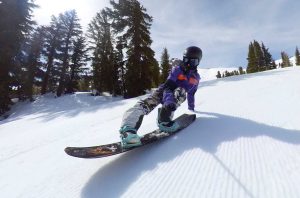 Freestyle Personality
Even though the Satori is a free ride / all mountain style board. It has a playful personality. This board has a really good amount of pop to it. So it is fun to ollie and find natural side hits and wind lips to jump off of. It took a bit of effort for me to butter this board. But would be fairly easy to butter for a heavier rider I think.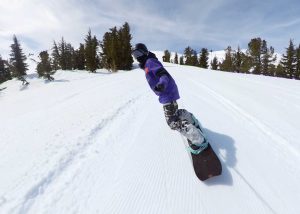 Riding switch on the Satori is pretty easy as well. Because it is centered on sidecut it doesn't feel super backwards. It feels slightly off because it still has a somewhat directional shape and a small amount of taper. But it is pretty easy to ride switch on for being a directional free-ride board.
It is stable in landings as well, so would be fun on jumps if you want to cruise through the park.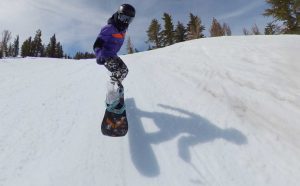 Overall
The Arbor Satori Camber is a fun inspired free-ride board that has good stability at higher speeds, likes to float in powder, and rip up some groomers. It is a free-ride board that doesn't take life too seriously. Would be good for heavier riders, or riders looking for a wider waist width board. Ideal for an advanced to expert rider.
Want to snowboard with Steph?
Sign up for one of her camps or ride days!
Check out her company here: Altitude Attitude 
Arbor Satori Camber Specs
Arbor Satori Camber Images
Arbor Satori Camber User Reviews
If you can't buy through the links above, you can support the site with: