Adidas Superstar 2017-2018 Snowboard Boot Review
| | |
| --- | --- |
| Riding Level | Intermediate - Expert |
| Lacing Type | Traditional Lace |
| Manufactured in | China |
| | |
| --- | --- |
| Flex | |
| Turn Initiation | |
| Sizing | |
| Boot Width | |
Adidas Superstar 2018 - 2017 Review by The Good Ride
The Adidas Superstar takes a lot of the softer flexing skate like qualities from the Samba but has a little more shock absorption and has a strap that can offer up a little more response when pulled tight.
Before you watch the vids just want to say I should of been in a size 8.5 than a size 9 for the 2018 model so it would of fit better and responded better than it did. 
Riders: James
James' Foot Specs
Foot Size: Right 9 and Left 8.75
Foot Width: Right and Left between a D/E
Arch Length: Right 9.5 and Left 9
Calves (Widest Point): 17"
Calves (At top of boot): 12"
Fit: Adidas run on the wider side but the Adidas Superstar seems to be the widest of all the Adidas boots.  I think it's because of that rubber toe.  The rubber is thinner so it gives you a little more room inside.
Flex:  The flex can be a little more supportive and stiff up top but at the bottom, there is a good break in the ankle that gives it a mellow flex on the softer side of med/soft.
Comfort:  Pretty comfortable for how small the liner is and I only noticed a little pressure on the roof of my foot on the forward flex. Not sure yet if that will be an issue or if it will go away as they break in. It doesn't have that instant comfort that some boots do but it does seem like it can become pretty comfortable. The 2018 Adidas Superstar didn't have the same pressure points and if the fit was correct it would have fit really well with almost no pressure points.  That's what happened when I sized down from the 2018 Adidas Tactical ADV in size 9 to 8.5 so it should be very similar to the Adidas Superstar.
Heel Hold:  The softer fuzzy material in the liner made my socks slide pretty easy inside.  I like the easy in but would love to see the same material from the ZX-500 inside that keeps your foot in the right place better than this liner.
Adjustability: There are lots of options to dial out your boots with traditional lace and a strap up top. It takes a little more work to tie knots and dial the strap out but you can do almost anything once you get into the upper zone and you can
Flex Retention:  Like the articulation in the ankle.  Wish there was a little more but it's got enough to keep the flex similar to how you got it out of the box for a while.
Response: Nothing great here but that's what they are going for. It's got that medium bordering on med/slow response that is great to pair up with easier turning boards.
Traction:  So I love the EVA/Rubber Combo at the bottom and Adidas did this right with the Superstar.  It's got rubber in almost every place you really need traction and it gives you more than boots like the Burton AMB.
Shock Absorption:  Really good shock absorption. It's not as good as their energy boost tech but it's better than most boots out there these days and it's a massive improvement from the Samba.
Footprint: Super reduced! From what I've seen it's the best in the industry.  These are 2 size 9 boots that fit me almost exactly the same. We have noticed that there isn't as much of a difference in larger sizes as you go up from size 9 but Adidas is still a little smaller. Seems to be about the same for 2018 as well.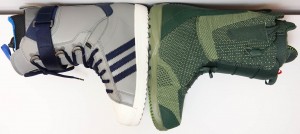 On & Off Ease: Not the easiest on and off and that's mainly because of the power strap across the top.
All in all this is a great mellow response boot that can get a touch more if you need it.  It
Adidas Superstar Past Reviews
Adidas Company Information
Adidas Superstar User Reviews