Telos Company Info
TELOS BACK/SLASH – RATED RADICAL!!
TELOS Back/Slash –  143, 148, 153, 158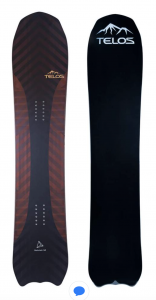 Carves Brilliantly
Floats Effortlessly
Lightweight
Durable
Fun to Ride
Rated Radical @JH Shaper's Summit Since 2018!!!– The Back/Slash design is a Directional and Volume Shifted(short/fat) Pow Surfer that allows you to ride a much shorter than normal board without losing any feel or performance and with less swing weight than a traditional board. The Setback Camber and wide Nose Rocker lets you Float effortlessly through Powder and the additional width gives extra stability through deep powder carves. A specially designed multi-radial sidecut helps lay out and lock in the smoothest carves with a less aggressive transition toward the tip and tail to bite when you need it and still exit easily when you want to. Poplar & X-wood Torsion Control Core gives maximum edge-to-edge control without adding torsional stiffness and Polyurethane Sidewalls gives it just the playfulness you're looking for with the confidence to hold an edge in any conditions. Rounded out with Lightweight and durable triaxial fiberglass construction and aluminum tail protection makes the Back/Slash Perfect for everything from low carves on groomers, pow runs in tight trees, backcountry lines and chutes through the deepest powder or even shredding through the park if you so choose. The Back/Slash is a must have for your Dawn Patrol Quiver!
Recommended Sizing:
143cm – up to 150lbs / 9 Boot (Normally ride 146-153cm)
148cm – up to 200lbs / 11 Boot (Normally ride 153-158cm)
153cm –  up to 230lbs / 13 boot (Normally ride 158-163cm)
158cm – Big Boys and Big Backcountry Mountains (Normally Ride 164cm+)
Features:
ONEBALL Bio-Green Wax – All Telos Boards are shred-ready straight from the shop and are responsibly waxed from the factory with ONEBALL Jay Bio-Green Wax, made from renewable, soy beans.
ELECTRA BASE – Telos high-speed, graphite infused sintered base with die-cut logos is ultra-durable and helps eliminate the use of highly volatile solvents and chemicals used in typical inks. Solid color materials help to keep your bases looking fresh and the tighter molecular structure helps eliminate the possibility of unforeseen core shots from those gnarly backcountry sharks!
Torsion Control Core – Poplar and Paulownia core with X-Wood technology and horizontal food beds gives maximum edge to edge control without sacrificing overall torsional flex. Carbon fiber stringers provide additional pop and performance. Each core starts from raw lumber in our factory which is cut down to specifically calculated strips and laid up by hand with each piece exactly where it needs to be for Ultimate Flex, Feel and Durability.
Fiber-FleX Construction – Lightweight triaxial fiberglass construction makes the Back/Slash an ultra-playful and fun pow surfer. Full layers of fiberglass laminated above and below the Poplar and X-Wood core create a lightweight and durable combination that absorbs anything you throw at it while giving you just the right flex, stability and fun.
PERMA-FleX Resin – Telos proprietary resin that we've developed and used since the 1990s is still the only NO-VOC Resin used in the industry today. Many companies claim to use "Bio-resin" that may use sustainable filler materials but still also contain Volatile Organic Compounds that are harmful to our environment. Telos Perma-Flex Resin uses non-harmful specially formulated elastomers that not only locks in the camber and flex for the lifetime of the board but has the highest tested bonding strength of any other resin used in the industry today.
Digital Direct Printed topsheet – Digitally printed using solvent free inks and offering a semi-transparent view to the core technologies inside.
Seamless Polyurethane sidewalls – Polyurethane sidewalls give you just the playfulness you're looking for and the confidence to hold your edge on hard carves.
Aluminum Tail protection – Specially designed aluminum tail protectors give added protection and durability in the backcountry.
Ceramic edge tuned – All Telos boards come with factory tuned edges with detuned tips and tails.