Telos Company Info
TELOS CHILLUM TWIN -W/CARBON SPRINGS!
TELOS Chillum Twin – 146, 149, 152, 155, 158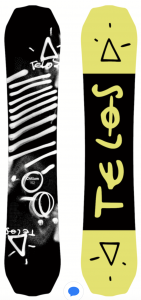 Great Pop
Lightweight
Carves Great
Ultra-Stable
Fun to Ride
The Chillum Twin with Park Camber has slight middle rocker, steep camber but mellow at the tips and is ideal for locking onto rails for maximum control. Carbon-Springs™ pop system uses next level carbon fiber technology woven through a Poplar and X-wood core from top to bottom which multiplies pre-load for ultimate pop & performance and makes the Chillum ideal for freestyle park, slopestyle, big air or pipe riding. Super stable and floats great in powder and perfect for stomping big backcountry pow landings. Enhanced freestyle sidecut with shred bumps provide maximum edge to edge control and allows you to carve quickly, smooth and stable. Lightweight and durable triaxial fiber glass construction makes the Chillum Twin the perfect all-mountain freestyle board for park, jumps, pipe or buttering your toast!
Rider Weight Recommendations:
146cm – up to 160lbs / 73 Kg
149cm – up to 175lbs / 80Kg
152cm – up to 190lbs / 86Kg
155cm – up to 205lbs / 93Kg
158cm – up to 220lbs / 100Kg
What We Stand (Sideways) For
Core Values: Be progressive with Responsible and technology driven design and production to create high quality boards that people are stoked to ride every day.
Mission Statement: Telos Snowboards are meticulously and purposefully designed to inspire innovation of the sport and progression for all riders by making every day on the mountain your best!
Made responsibly by snowboarders, for snowboarders:
*Hand made on planet earth
*With No VOC Epoxy
*Farmed Wood Cores
*Solvent Free Inks
*Die cut bases save waste & energy
*Low waste factory recycles all Wood, Paper, Metal & Plastic