Epic Water Filters Company Info
Everyday Bottle Filter Replacement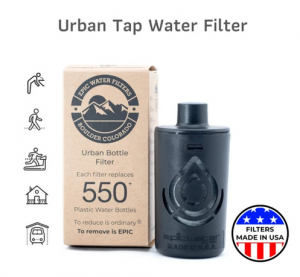 he Everyday Bottle Filter fits:
Eco-Tritan Bottle | Tritan
Escape Bottle| Glass
Outback Bottle | Stainless
Olympian Bottle | Sports
The Answer | Hydro Flask | Nalgene Compatible Filter System
Our American-made Everyday Water Bottle Filter are tested against NSF/ANSI Standards 42, 53, 401, & P473 for contaminant reduction (see Everyday Filter Test Results for complete results). All of our filters are recyclable through our recycle program (see here). 
Additional Independent Testing
Use Instructions: The Everyday filter is pre-flushed and requires no flushing. The Everyday filter is designed for everyday use and targets normal tap water contaminants and should only be used with treated tap water. We make an Outdoor Adventure filter (100% interchangeable with the Everyday) for those times you want to get wild.
What Does This Filter Remove? Everyday Filter Test Results.
Why Choose the Epic Everyday Bottle Filter?
Named Amazon Choice (November 2017)
Removes up to 99.99% of all tap water contaminants
100% replaceable, 100% recyclable, 100% BPA-free, 100% Made in USA (It can be recycled with hard to recycle plastics or #7 plastics, or check out our Recycling Program for more info!)
Produces up to 75 gallons (285 litres) of clean water
Industry-leading technology tested to highest international standards
Eliminates need to buy filtered or bottled water
Stops 550+ plastic bottles going into landfills and oceans
Filter Life: up to 75 gallons (285 litres) depending on average daily usage and water quality

Average recommended filter replacement: 3-4 per year if used regularly
Filter recycle program earns you a free filter and saves our landfills & oceans
Epic Performance
When we say Epic, we mean Epic. Our proprietary, multi-patented blend of filter media eliminates up to 99.99% of the harmful contaminants other filters leave behind such as chlorine, heavy metals, industrial and agricultural pollutants and trace pharmaceuticals – as well as a reduction of fluoride. Why settle for anything less?
Epic Value
Enjoy up to 75 gallons (285 litres) of pure clean water per filter that will taste all the sweeter knowing you'll never pay for bottled water again.
Epic Sustainability
Each filter is 100% recyclable. And when it finally comes time to replace your filter, take comfort knowing it's already replaced 550+ plastic bottles. It can be recycled with hard to recycle plastics or #7 plastics, or check out our Recycling Program for more info!
Test and Approved Worldwide
Epic Water Filters have been independently certified and tested across the globe in both field and laboratory test in countries including the USA, UK, Australia and Japan. These rigorous processes are just another way we go well beyond what's required to deliver the cleanest, purest water possible.