Epic Water Filters Company Info
Epic Nalgene OG Ultimate Travel Bottle | 32 oz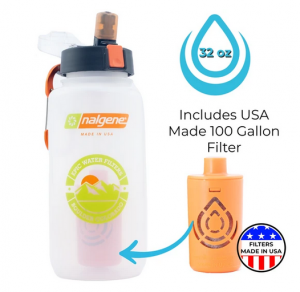 NEW BOTTLE DESIGN | Includes 1 USA Made Outdoor Adventure Filter | Bottle Made from 100% BPA-free BPS-free LD Material | Bottle Made in USA | 32oz | 1L | Filter Life: 100 Gallons | Clear Frosted | Nite Ize Stainless Steel Carabiner (25 lbs Capacity)
Whether filling up at a public fountain, with rain water, at a local creek, or at a mud puddle in Bali, you can have peace of mind with our Outdoor Adventure Filter that allows you to drink any fresh water source no matter how polluted. The Outdoor Adventure Filter is designed for use with any polluted water source (excluding salt water) filtering out even sub-micron sized viruses. This advanced biological water filter instantly purifies water contaminants as you squeeze or suck from your bottle, guaranteeing a stress-free experience when drinking from heavily contaminated water sources. Supply yourself with clean water in emergency situations, international travel, hiking, camping, or any other outdoor activity. Get wild!
The Nalgene OG Story
In the 1970s, conservationists began discouraging the disposal of cans and glass bottles by burning and burying them in the wilderness & in recreation areas. Eventually, some of those places responded with regulations and began forbidding such materials. Nalgene products quickly became popular replacements among backpackers for storing consumables; the light, wide-mouthed high-density bottles were more secure than plastic bags and were used for both liquids and solid foods. Originally, wilderness travelers purchased Nalgene products from laboratory-equipment suppliers or gained access to them through their networks, like in their workplaces.
Company lore has it that the Nalgene Company president discovered that his son's Boy Scout troop was using Nalgene laboratory containers for camping. Since then, the company has re-packaged and marketed the items for consumer sales through their line of Nalgene Outdoor Products. In 2018, Epic Water Filters & Nalgene began to discuss a collaboration between the Nalgene 32 oz wide mouth bottle and the Everyday Filter system from Epic Water Filters (both made in the USA). We could not be happier putting our filter into the OG American made water bottle, the Nalgene 32 oz wide mouth.
Why OG?
"OG" back in the day used to mean Original Gangster although some younger people these days use OG as a quicker way of saying "The Original" – at Epic, we thought, what is more OG than the Nalgene 32oz wide mouth bottle? That is why we call it the Epic Nalgene OG. It's the original gangster.
Dimensions: Approximately 23 cm from the bottom of the bottle to the top of lid & approximately 8.5 cm in diameter
What Does This Filter Remove? Outdoor Filter Test Results.
It is designed for use with water that is non-turbid and non-stagnant. It removes up to 99.9999% of contaminants and pollutants found in fresh water supplies and up to 99.99% of other biologicals (pathogens). The American-made Outdoor Adventure water filter is tested against NSF/ANSI Standards 42, 53, 401, P473, and P231 for contaminant reduction & removal (see Outdoor Filter Test Results for more).